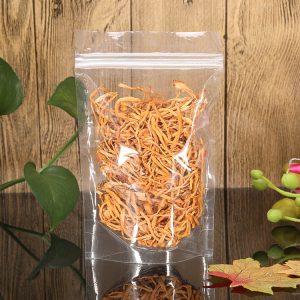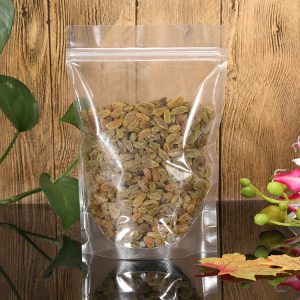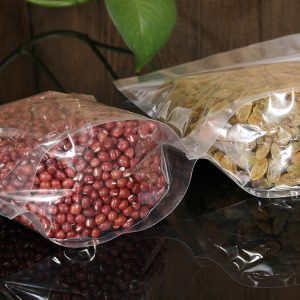 Product parameter
Size 1: 9x13cm
Size 2: 10x15cm
Size 3: 11x18cm
Size 4: 12x20cm
Size 5: 20x30cm
Material: PET, PE
Features
High-quality PET, PE material, wear-resistant. Firmly hot press, no edge burst, more durable, not easy to damage. Moisture-proof, stain-proof, soft and comfortable to touch. The size is complete, and the choice is large. Transparent bag, you can see the products in the bag, easy to sort and place. Stand-up design makes storage more convenient.
Plastic ziplock bags are also known as compact bags, bone bags, and sealed bags. Self-sealing bags are classified according to their materials. The most common ones are PE blow-molded ziplock bags and composite bone-fitting ziplock bags. PE zipper bag is a kind of sealed bag made of polyethylene (LDPE). It is a green product. It is tough, durable, reusable, printable, hoe, and can be used as a refrigerator storage bag. Mainly used for product packaging, storage of food, jewelry, medicines, cosmetics, frozen foods, philatelic products, etc., moisture, water, insects, prevention of things scattered, inductive effect, to the buyer's neat and standardized image, but also can be reused, With a single press, it will be tightly sealed, non-toxic and tasteless, with good flexibility and easy sealing. The advantages are low cost and versatility.
Disadvantages: Used as ordinary packaging, can not meet the packaging of some high-end and precision instruments, limited sealing, not suitable for vacuum packaging. The composite bone self-sealing bag, which is also the characteristic of the PE zipper bag, is grafted to the composite material, and has the characteristics of convenience and quickness. Refers to plastic bags, aluminum foil bags, nylon bags, shielding bags, etc. Two plastic strips are placed at the mouth of the bag. They are firmly bonded by the machine and can be repeatedly sealed and opened.
Generally, they are suitable for electronic components, ICs, PCBs, LED and other product packaging.