Apparel companies want to have their own unique style, in order to highlight the image of their company and products. So I thought of the clothing paper bag customization. At this time, you need to choose a clothing paper bag processing factory. If you decide to customize it, you need to pay the deposit first. Manufacturers are also in order to avoid risks, so now merchants need to pay a deposit before ordering garment paper bags, so that manufacturers can take orders to produce.
In the process of setting shirts, tailors will measure the proportions of each person's body to customize, so the order of clothing paper bags is the same, and there are certain standards. The specifications of the clothing paper bag, the design of the paper bag printing pattern and the requirements on the selected raw materials are all the clothing paper bag customization requirements, which are also prepared by the customer before submitting the order. After the above work is ready, garment paper bag production can be carried out.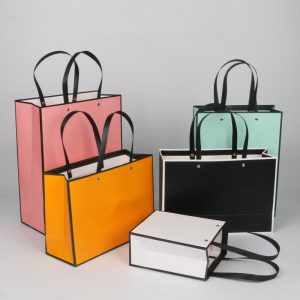 Customization is often not a one-time molding, and it needs to be changed repeatedly, and the same is true for clothing paper bag customization. Everyone has different understanding of products and different requirements for regulations. Therefore, for customized products, manufacturers generally choose proofing first, and only after the samples are confirmed by customers, will they proceed to the next step. After the customer is satisfied with the sample, the mass production process starts. After production, it is the same as the stock process. The clothing paper bag is packaged, passed through the logistics company, and finally appears in the hands of the customer. This is the entire process of clothing paper bag customization. .