Many people often ignore some questions when asking prices for custom-made paper bags, because a small paper bag is actually asked by universities, and a paper bag alone cannot accurately report the price.
The factors affecting the price of customized paper bags can be divided into the following categories:
1. Quantity, no matter what manufacturer, they will ask, because a single style, no matter how many paper bags are made, all need a printing plate, the more the quantity, the less the printing price allocated to each paper bag, so The price of a single paper bag is getting cheaper.
2. The common materials of the paper bag are white cardboard, coated paper, kraft paper, and special paper. Generally, the price of white cardboard is similar to that of coated paper, and the difference in materials is not very large. Kraft paper, domestically produced is relatively cheap, imported yellow kraft paper is not expensive, even cheaper than the price of white cardboard, but a ton of white kraft paper is much more expensive than a meal of white cardboard, and the price of white kraft paper bags is naturally falling. Specialty paper is the most expensive of all materials, and it is rarely used.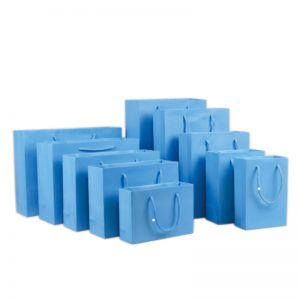 3. Printing, printing here refers to a single paper bag to judge the price from its color. For the paper bag industry, the price of color harmony is cheaper for four-color printing, followed by spot-color printing, and the most expensive is three-color or two-color printing. Of course, if the paper bag is printed on both sides, the price is doubled, and the final price of the paper bag is still determined according to the area of ​​the paper bag.
4. Craftsmanship. Common crafts for custom-made paper bags include bronzing, dusting, and UV. Their price is mainly determined according to the area. If the area is the same, dusting is a cheaper one, the bronzing is moderate, and UV is a more expensive process. Naturally, the price of different crafts is also different, and it is usually made on the brand logo.
Generally, these are the key factors that affect the price of custom-made paper bags. Of course, covering bright film and sub-film, using ribbons or round ropes as handles will have an impact on the price of paper bags, but the overall gap will not be very large.