The paper bag manufacturer tells you the classification of the main materials:
Speaking of packaging bags, everyone must have thought of a lot, such as shopping bags carried by people in shopping malls, take-out packaging bags for takeaway shops, and some paper bags gifted by commercial activities, etc. Paper packaging bags are environmentally friendly and can be printed and used. It is more convenient and comfortable, so it is loved by everyone. Today, I will tell you about paper packaging bags and teach you how to choose a packaging bag that suits you. The first thing you think about is the material. If we need to print exquisite patterns, we will definitely choose printing. Of paper.
Commonly used materials for paper bags are as follows:
Coated paper, white cardboard, white cowhide, etc., in order to prevent the paper bag from blasting, you can choose the laminating process; white card laminating printing, if we choose simple and classic, preferred cardboard or kraft paper, logo bronzing or UV process, this It is also the choice of many international big names. The theme highlights the brand characteristics and has a good shape for the brand. In addition, the choice of gift bags is also crucial to the improvement of product value and grade. A good gift bag is very important The importance of the brand's publicity machine is equivalent to having an impact on the direct publicity of the brand; the types and styles of paper packaging bags are also various, so the choice of paper bag material is particularly important.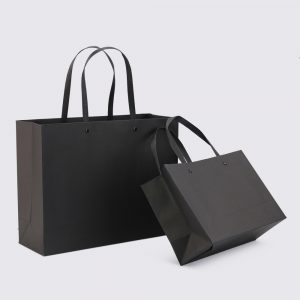 The technical background of the emergence of paper bags:
With the economic development of society, the pace of people's lives has begun to accelerate, more and more fast food products appear in our lives, and there are more and more types of food packaging bags. The types of food packaging bags in the prior art mainly include Plastic bags and paper bags, and plastic packaging bags are oil- and water-resistant, but plastic packaging bags contain chemical substances. Long-term storage of food is harmful to the human body. Moreover, it is difficult to dispose of garbage after plastic bags are used, and it will cause certain pollution to the society. Now society is also advocating environmental protection, but people's awareness of environmental protection is also increasing, more and more people are using paper packaging bags, and plastic packaging bags are slowly being eliminated, so those who need to make paper bags can find us. The door of Ningbo Paper Bag Factory is always open for you.