As a clothing person, the headache at the time was to be able to find a good paper bag packaging for our products. This packaging can help us promote our products. However, because I didn't understand the packaging industry at that time, I didn't know the custom size and craftsmanship of paper bags for clothing. The process of customization causes waste. The paper bags that are made are either bigger or smaller. Today, the manufacturer of paper bag customization experience-Ningbo Paper Bag Factory, will tell you how to customize the size of clothing paper bags to be reasonable.
For the clothing industry, the custom size of paper bags is greatly affected by seasonal changes, and it is necessary to understand the design standards.
We all know that when making clothes, the climate is different throughout the year, and the clothes we wear naturally are also different. In addition, the clothing stores now buy some small accessories, scarves and other methods to match and sell them. This raises a question, how should we customize the size of the garment paper bag? In order to make reasonable use of paper bags with the least styles, more needs of customers can be met. You must know that the more styles and the fewer the quantity, the higher the cost.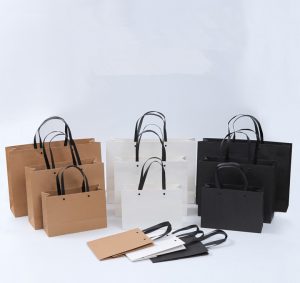 In our opinion, three clothing paper bag sizes are sufficient in the clothing industry. The largest clothing paper bag size is based on winter down jackets. The down jackets can be folded up to three centimeters on the left, right, top and bottom. The benefits of this design It is that the garment paper bag can hold a down jacket. If the customer buys a few coats, he can also use this garment paper bag, which can save materials. The size of the paper bag in the middle is based on spring and autumn clothing. The smallest paper bag size for clothing is based on autumn scarves. Fold it up and down and leave 2 cm, so that you can put both jewelry, autumn scarves and T-shirts. Such a rule of thirds is a good method for the size of paper bags in the apparel industry.
In fact, each manufacturer has its own ideas on how to customize the size of clothing paper bags. In fact, there is a simple way to directly ask the factory's quoting staff. This answer must be the most intuitive and accurate.