Kraft paper bag has high strength, high environmental protection and tensile resistance. It is one of the most popular packaging at present, and it has a wide range of applications. Shanghai Maihe Packaging is a professional kraft paper bag processing, according to different customers, to meet customer demand for kraft paper bags.
Kraft paper bag making material
The quality of a product ultimately depends on its materials. The kraft paper bags with different weight materials provide 4-15 kilograms of load. Shanghai Maihe Packaging makes the weight of the paper bags to the best effect through professional design, so that the kraft paper bags can be reused many times.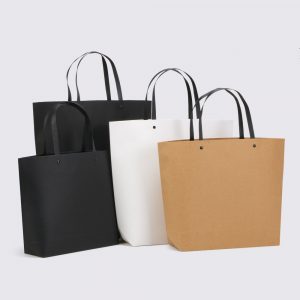 Kraft paper bag handle design
The handle of the kraft paper bag is generally perforated on the body of the bag, and the rope is inserted and then knotted. The thickness of the handle and the reinforcement of the bag body will directly affect the load-bearing effect of the kraft paper bag. Shanghai Maihe Packaging's automatic bag-making equipment has a full assembly line for punching, perforating, and threading, without manual intervention, which is not only efficient and low-cost, but also fast.
Kraft paper bag bottom design
The bottom of the kraft paper bag is glued and bonded, and the inside is reinforced with thick cardboard, so that the kraft paper bag can easily bear about 5KG. Large-size kraft paper bags need to use heavier materials, and paper bag printing will pack kraft paper bags into high-end gift packaging bags. This kind of publicity effect is also better.