As everyone's awareness of environmental protection continues to increase, hand-held paper bags appear more and more frequently. Due to the implementation of the plastic restriction order, the development of paper bags has been promoted. So how are the exquisite hand-held paper bags made? Today, the paper bag packaging factory is here to give you an introduction.
1. Selection of paper bag materials
Under normal circumstances, handbag manufacturers will choose materials before producing paper bag printing products. At present, the materials used to make paper bag printing products are also varied, good and bad, and ordinary quality, small thickness, paper, handbag Manufacturers will choose the materials of paper bag printing products according to the needs of customers.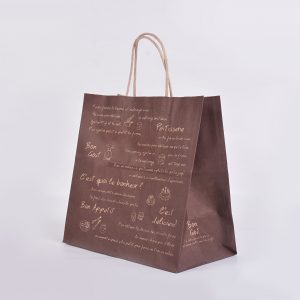 2. Printing and production of paper bags
When the material is selected, it is necessary to print the paper. In this process, handbag manufacturers need to pay attention to the printing of paper bag products. Unlike other printed products, they must ensure the quality in printing technology and printing process, so that after printing The appearance of paper bags from semi-finished products is the most attractive to consumers.
3. The overall production of paper bags
This process is to add a handle to the printed semi-finished product, so that it can become a paper bag where items can be placed. Handbag manufacturers should pay attention to every process of handbag production, so that the quality of such handbags can be guaranteed.