Kraft paper bag is an environmentally friendly packaging bag, and we will often use it, but we sometimes find that the surface of the kraft paper bag is very fuzzy. This may be a problem in the production process of the kraft paper bag, so what causes it Is the printing of kraft paper bags blurred? Next, the Ningbo paper bag factory will introduce the reasons for the blurry printing of kraft paper bags.
1. Incorrect ink density
When the ink concentration is normal, the printed kraft paper bags are very attractive. If the ink is too sticky or too thin, the effect will definitely be poor, so the printing ink used in our kraft paper bags If the density is not enough, the printing will be blurred.
2. The temperature is too high
When kraft paper bags are used for hot stamping, thermal transfer technology is mostly used, and temperature control is also very important. If the temperature is too high, the temperature of the metal printing plate is too high, and the printed product is definitely not ideal, then it must look blurred.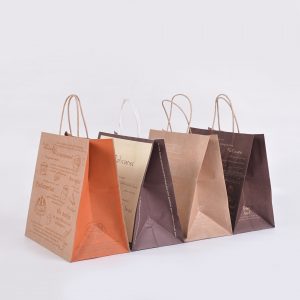 3. Inaccurate overprinting
The principle of four-color printing is to print the printed products layer by layer to form the effect we want, but when the overprint is incorrect, there will be three layers of colors, resulting in kraft paper bag printing blurry.
4. Equipment problems
Because printing is a systematic project, any problem in the equipment is directly reflected on the kraft paper bag as the printing is blurred, so at this time, you must carefully check the equipment.
The above introduction is the reason for the blurring of kraft paper bag printing. Therefore, you need to pay attention when printing kraft paper bags, mainly to reduce the loss caused by printing quality problems.