I have introduced to you before. I got the samples sent by the paper bag manufacturers. Someone said that where they should be tested, the clothing paper bag customization is a bit complicated, because there are more places for beer and more creases, so the quality of the paper bag is generally good. Not good, so I was a little negligent in the inspection. Under different circumstances, the glue-bonded area will have different degrees of cracking or intact. So today I will introduce to you which two cases of cracking are currently unsolvable.
Paper bag factories use different materials to make paper bags, which can directly affect the adhesion of glue. Regardless of whether the glue meets the standard, it is obvious that the single copper paper used to make paper bags is the market occupant, so the bonding of single copper paper is The more mature and immature ones are some special papers, or other papers, especially some materials with smooth surface or too irregular materials. When glue is used for bonding, insufficient filling is likely to occur, causing air infiltration, and then blistering. And cracking, so the paper material is a relatively force majeure situation, and the current technology for these materials cannot be solved.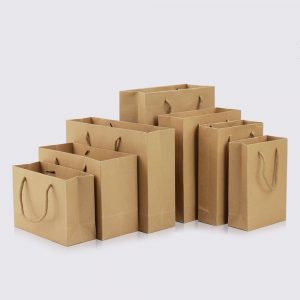 In addition, the size of the clothing paper bag manufacturers is larger. The place where the internal mouth glue is joined may be kept intact when the work is completed at that time. However, in general, this kind of super-large clothing paper bag, in use, his The pulling force will continue to stretch on the side, which will have a great impact on the position of the glue, so that it is easy to be damaged, so this kind of super-large garment paper bag customization is prone to glue cracking.
These two problems are currently unsolvable problems. The garment paper bag manufacturers will remind you of what problems are likely to occur in the process. I hope these can help you. If you have any questions, you can consult us at any time.