Speaking of kraft paper bags, everyone knows that they are used in many shopping places, and they provide great convenience to people. Because the kraft paper bag is very environmentally friendly, it is a popular environmentally friendly packaging material, so it is very popular with the public. So how is the kraft paper bag made? Let's take a look at it together.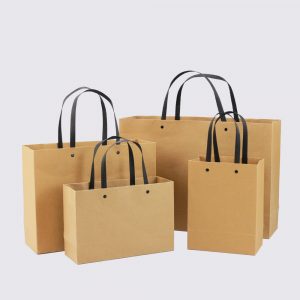 1. Small white kraft paper bags: Generally, the number of such paper bags is very large, and its use range is also very wide. Many businesses like to use such kraft paper bags because they are durable and they are completely machine-shaped.
2. Medium-sized kraft paper bags: Generally, medium-sized kraft paper bags are formed by machine, and manual rope attaching is done by manual operation, because the domestic kraft paper bag forming equipment is limited by the forming size, and the kraft paper bag rope attaching machine can only attach smaller paper bags The rope, so the kraft paper bag because of the limitations of the machine. Many paper bags cannot be completed by the machine.
3. Large bags: the kraft paper bags with the reverse head and the thicker yellow kraft paper bags need to be made by hand. The domestic machine cannot solve the kraft paper bag forming machine, so it can only be made by hand. This kind of kraft paper bag is made by hand. The cost will be very high, so its quantity will not be very large.
No matter what kind of kraft paper bags, when the quantity is small, they are all made by hand. Because machine production will cause large loss of kraft paper bags, it cannot solve the practice of small quantities of kraft paper bags.