We can custom paper bag with any printing, such as offset printing, screen print, digital print, choose the best way for your bags. different way have difference advantage.
1. Offset printing is what we call the current printing equipment, which mainly uses rubber (blanket) to print the design on the printing plate on the surface of the outer packaging paper bag. This method of printing by blanket is offset printing.
It has the characteristics of rich hierarchical display and delicate details. It is also the most important printing method in the printing industry. When doing offset printing on the outer packaging paper bag, the problem should be noted: the resolution of the outer packaging paper bag picture affects the final printing effect, if it is too small, it is prone to blurring. If the text on the outer packaging paper bag is too small, do not use color printing, which will easily lead to inaccurate color registration. The outer packaging paper bag should be designed to avoid the solid color of the whole page as much as possible, so the printing effect is not very good.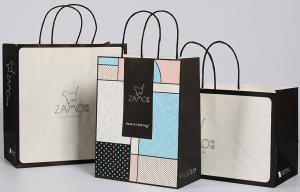 2. Screen printing, printing plate (specially made holes on the paper film plate or other plates). When printing on the outer packaging paper bag, the ink through holes are transferred to the outer packaging paper bag through a specific pressure, and the design effect is finally realized Printing method. Silk screen has a concave-convex sense, more three-dimensional sense, flat printing, embossing, and gravure printing are collectively called the four major printing methods. When the outer packaging paper bag is screen-printed, there is no problem as long as it is developed according to the characteristics of the screen-printing at the beginning of the plate making.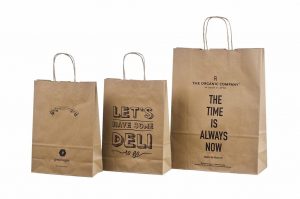 3. Flexo printing is a direct printing method for outer packaging paper bags. It is relatively flexible, so flexo printing has a strong visual impact. The most taboo of outer packaging paper bag flexo printing is that the design text is too small, which will make printing difficult. If the above points are mastered, there is basically no problem.