The tote bag has a wide range of use and also reflects its value. Using it to place goods will bring more portability to people. At the same time, the tote bag is also a marketing method for many businesses to promote and promote. In the design of the tote bag In terms of production and production, the unique creativity of many merchants and printing and design manufacturers has given full play to the marketing role of handbags.
So how can we design a beautiful and novel handbag? To design a good handbag, you must first understand the characteristics of the handbag.
According to different materials used, handbags are divided into commercial paper handbags, plastic handbags, product packaging accessory handbags, etc. No matter what kind of handbags, they can be used for installation and external promotion.
1. Product form
It is mainly in the form of "bags" to install items. After professional packaging, a handbag with the company's logo and pictures will be printed to have the effect of publicity, and of course, it also includes other subsidiary functions.
2. Material aspect
The design of handbags usually choose high-grade paper and non-woven fabrics, etc., because of the advantages of durability and good toughness, so as to ensure greater load-bearing capacity and printing effect of the handbag.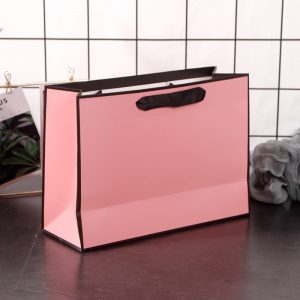 The design requirements of handbags need to be simple and generous, low price, and high quality. The picture design needs to be innovative, in line with the public's aesthetics, and fully realize the promotion of handbags. Two aspects need to be paid attention to:
1. The product needs to be of grade and quality.
2. The product needs to have a unique personality or the pursuit of corporate cultural quality for its image promotion handbag.
Therefore, when designing a handbag, it is necessary to consider the characteristics of the handbag and understand the user's experience, so as to design a professional handbag.