There are many types of paper bag materials. As the country is advocating environmental protection concepts, people are also very concerned about the environmental protection of paper bag processing. So what is the environmental protection concept of paper bag processing? The following is an explanation of the environmental protection concept of paper bag processing by Ningbo paper bag production plant for you: There are many varieties of paper bags, the materials are also diversified, and the styles are also very many.
According to the material, it is divided into: white cardboard, white paper, art paper and kraft paper, and some special papers.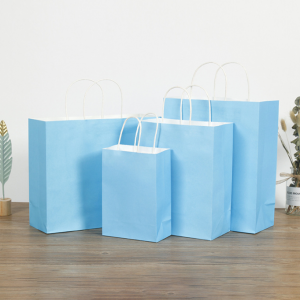 1. Paper bags are renewable and greener
We all know that paper can be recycled and reused. The raw materials for papermaking are usually plant fibers. In addition to the main components of cellulose, hemicellulose, and lignin, there are also a small amount of other components, such as resin and ash. Of course there is also the ingredient of sodium sulfate. In addition to plant fibers in paper, different fillers must be added according to different paper materials. The plastic bags we normally use are made of polyethylene. The raw material it uses is petroleum, and petroleum is also the energy we lack. However, the raw material for the production of paper bags is trees, which are renewable resources. It has the advantages of degradability and recyclability, so it is naturally a green paper bag.
2. Paper bags are biodegradable and more environmentally friendly
Of course, not all paper bags are degradable. Some paper bags have plastic film. The film material is polyvinyl chloride, which will not only harm the human body, but also cause the impact that it is difficult to decompose. The production of paper still uses logs as the main material. Excessive production of paper bags will cause a large number of felling of trees and cause environmental damage. Maybe the papermaking technology is not mature enough, and there will be a lot of waste water and waste gas in the production process. If it is not handled properly, it will still cause environmental pollution.