The kraft paper bag has a great advantage compared to other packaging materials. It can protect the product well and will not be damaged during transportation.
Kraft paper is made of pure wood pulp, so it is non-toxic and harmless. The price of kraft paper itself is not high. If the merchant wants to make a profit on the kraft paper bag, he must kill the distributors and middlemen, and directly become the factory direct sales. The huge number of transactions can be profitable, so this is also popular with large and small buyers.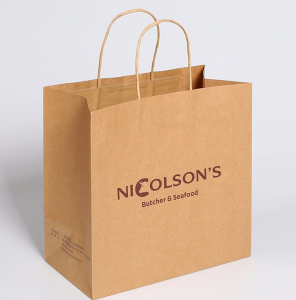 Kraft paper bag packaging has better physical properties and high tear resistance. This is also the advantage of kraft paper bags. What kind of paper is generally used for kraft paper? Generally, the kraft paper used for packaging is 50 grams with a relatively low weight- 100 grams is enough, you can use Qingshan kraft paper and Nine Dragons kraft paper. The appearance is exquisite and beautiful, and it is also moisture-proof. Usually 60, 70 and 80 gram weights are all possible.
Most people think that kraft paper can be printed as long as it is almost the same. In fact, not all kraft paper is suitable for printing. For example, black kraft paper and some packaging papers cannot be printed. Black kraft paper cannot be printed because of its own color printing effect. . Part of packaging kraft paper, such as natural color A and natural color B, is also unacceptable, because it is easy to wrinkle during printing. Natural color A is better than natural B grade, and it is better than natural B grade in terms of packaging and printing. . This is why the natural A grade is more expensive than the natural B grade kraft paper.