The correct method of preventing mildew can easily cause the kraft paper bag to become mildew again. So how to prevent the kraft paper bag from getting moldy? Let  the Ningbo Paper Bag Factory introduce.
1. The warehouse or factory where the kraft paper bags are stored should be sealed. Otherwise, it is easy to get wet in rain or heavy fog. Material warehouses need to be checked regularly for finished products warehouses. Warehouse items cannot be placed directly on the ground. They should be placed on materials. All materials must be kept clean to reduce the mess in the warehouse.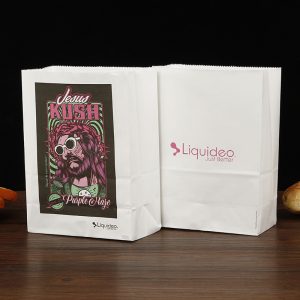 2. There must be a certain gap between the kraft paper bag and the ground. Wooden boards can be used for overhead, and there must be a certain amount of air circulation below to avoid the impact of moisture on the ground. Cloth and packaging materials should not be stacked directly on the floor. It needs to be separated by pallets and kept at a distance of more than 10cm. Do not contact with materials or walls to avoid the risk of moisture and mildew.
3. You can purchase a dehumidifier. Generally speaking, air conditioner manufacturers will sell kraft paper bag dehumidifiers. This is also a relatively simple method to prevent mildew. Due to the ventilation of the warehouse, if the outdoor humidity is greater than the indoor humidity, close the doors and windows, and vice versa, open the doors and windows to record the humidity and temperature changes. In the rainy season, indoors are relatively humid, and dehumidification equipment must be installed to prevent the risk of product mold.
The above is the anti-mold method of kraft paper bag, I hope it will help everyone. If you have any other questions, please feel free to contact us, we will serve you wholeheartedly.