There are many types of portable paper bags, there may be hundreds of printing types of portable paper bags, various styles, each of their functions is different, and the appearance and content are also ever-changing. Sometimes the paper bag needs to be covered with a film during printing. So what are the types of paper bag printing and coating?
1. Hand-held paper bag printing bright film
The color and brightness of the printed matter will change to a certain extent after the film is coated. The color of the portable paper bag after the bright film is printed will definitely be brighter than before the film, and the color will be more brilliant and brilliance.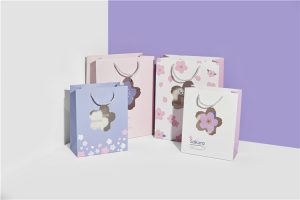 2. Hand-held paper bag printing dumb film
The color of the printed matter after the matte film is covered will be darker than that before the film, which is more suitable for elegant and calm art prints. Technical improvements are needed. When designing a page that needs to be covered with a matte film, the designer should increase the purity and brightness of the color.
From portable paper bag packaging to portable paper bag printing to use, it can provide consumers with portable services, and can also use this for product promotion and brand promotion. Exquisite paper bags will always make people fall in love with it from time to time. Even if the hand-held paper bags are printed with eye-catching trademarks or advertisements, customers are willing to reuse them many times.
The above is a brief introduction to the types of handbag printing and laminating technology. I hope these can help you. If you have any questions, please feel free to consult the Ningbo paper bag production plant. We are very happy to serve you.