Paper bag printing usually uses coated paper. In addition, 120 grams and 140 grams of white or yellow kraft paper are also commonly used. If the paper bag needs to hold heavier items, try to use 300g coated paper or 300g or more cardboard.
White kraft paper has strong toughness and is environmentally friendly. Now it is very common to make paper bags.
The color expression of coated paper is strong, so the design of the paper bag is novel. In terms of printing technology, modern printing technology can be fully reflected on paper bags.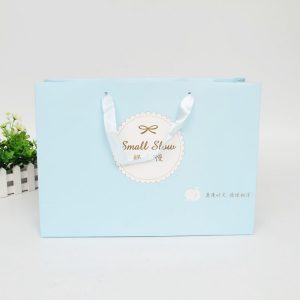 After the paper bag is formed, it is printed and then laminated, and then the paper bag can be formed by perforating and threading the paper bag. Therefore, the production process of the paper bag is not complicated, but the step of threading requires manual operation, so compared to other printed materials , The process steps are a little more complicated, and it also increases the cost of making paper bags.
Paper bag design is mainly about how to design the exquisite appearance and exquisite printing, which can leave a deep impression. Now it is not only its appearance, but also its practicality. It can be used for many times and has environmental protection performance. These also need to be designed. The teacher considered.
At present, paper is an indispensable material for making paper bags. Compared with cloth, non-woven fabrics and other materials, the reusable performance of paper bags will be worse, but paper bags more fully demonstrate the design ideas and brand characteristics, and are still the mainstream of paper bags.